Back to episodes
Season 4 | Episode 10
Experiential Marketing and Making Crypto Events More Memorable
Jay Kurahashi-Sofue, VP of Marketing at Ava Labs, discusses how his team disrupted the traditional event experience with their recent Avalanche Summit in Barcelona, along with some of the risks they took that really paid off. He also shares the biggest opportunities for crypto marketers across all stages of the funnel.
Brave pick of the week
This week's Brave Pick of the Week is MoonPay. Check out their website here.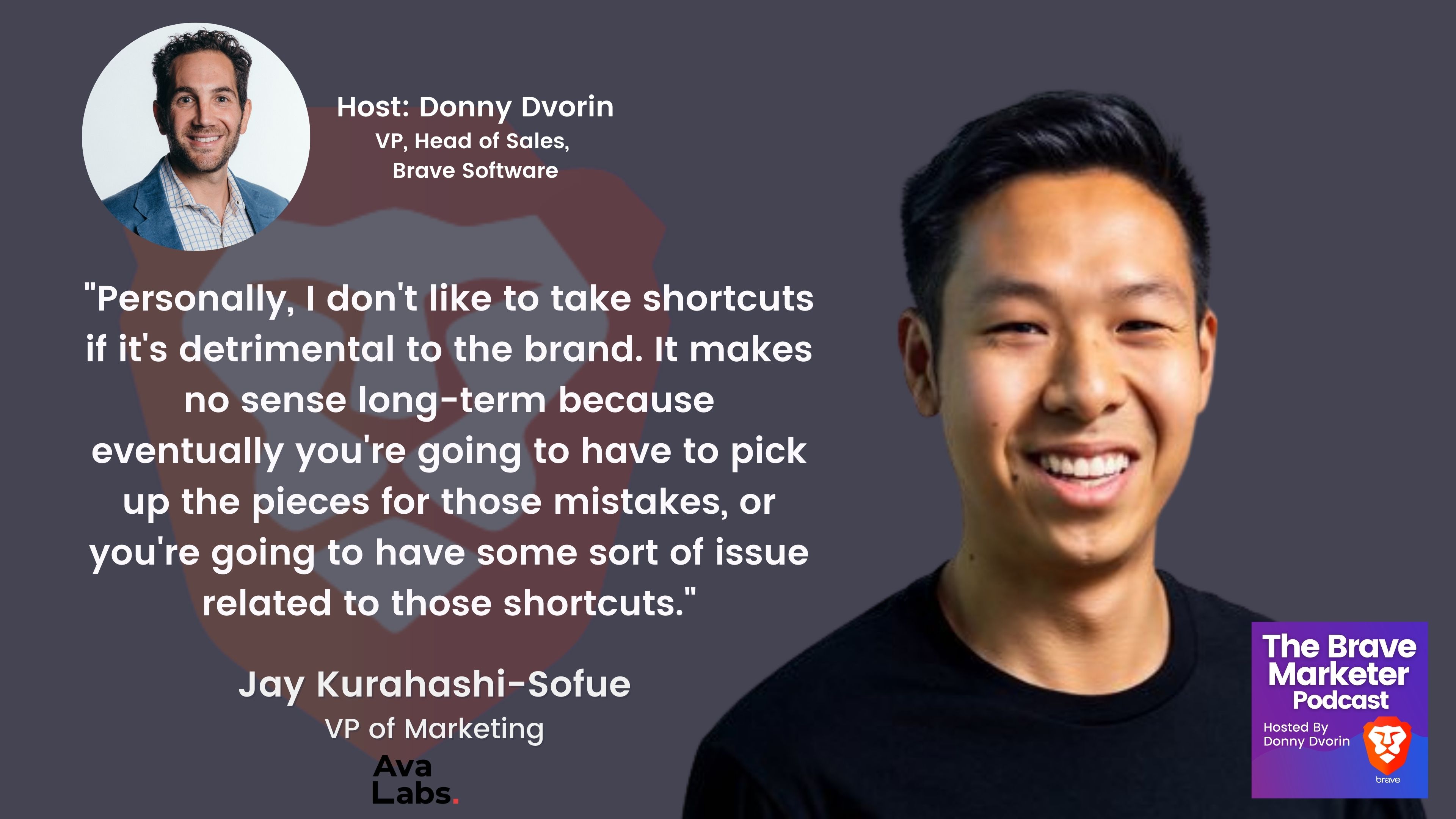 Listen on your favourite podcast player
Show Notes
In this episode of The Brave Marketer Podcast, we discuss:
How optimizing for speed and cost impacts blockchain adoption and attracting crypto traders
The challenges crypto marketers face when advertising on social media channels
Upper funnel activations and ways marketers can get more comfortable going horizontal with their channels
How user research can play an important role in meeting users where they are, and creating effective marketing strategies
Guest List
The amazing cast and crew:
Jay Kurahashi-Sofue -

VP of Marketing at Ava Labs

Jay Kurahashi-Sofue is the VP of Marketing at Ava Labs, a Web3 organization building Avalanche. Prior to Ava Labs, he was the Head of Marketing at Fluidity and AirSwap and also was a strategist at Ogilvy, where he co-founded its first blockchain marketing group. Jay is also the co-founder of BlockMarketers, a virtual and in-person community for marketing executives in the blockchain industry. Outside of Ava Labs, Jay is a photographer and music producer.
Subscribe and stream on all the platforms below
About the Show
Brave is at the forefront of a new online privacy frontier and has unique insight into the future of marketing and advertising in a cookieless world. If you're an agency, brand marketer or entrepreneur challenged by the changes in ethical advertising, consumer privacy and buyer expectations, this podcast will provide a backstage view of how influential marketers at top brands and agencies are responding to what's next.