Back to episodes
Season 4 | Episode 1
Crypto.com Believes That "Fortune Favors The Brave"
Steven Kalifowitz, CMO at Crypto.com, shares the strategies and tactics he's implementing on his team's quest to become a world renowned brand like Coke and Netflix. This includes how they've approached their partnerships with the UFC, Formula One, Matt Damon and the Sixers, along with their record breaking naming acquisition of the Staples Centre in LA.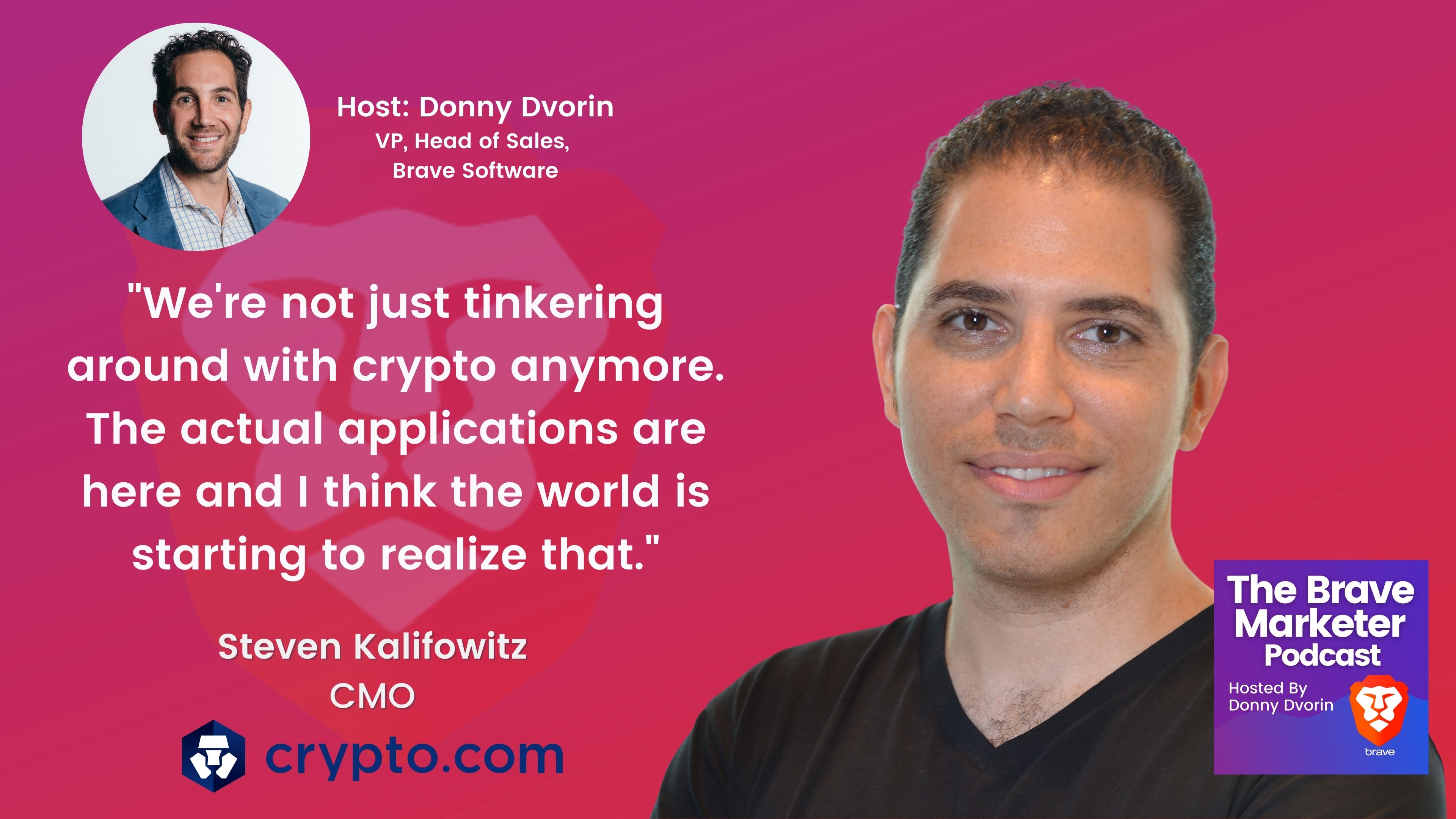 Listen on your favourite podcast player
Show Notes
In this episode of The Brave Marketer Podcast, we discuss:
The importance of having a consistent, single message when reaching a global audience
Why telling great stories will always remain a top marketing strategy
What differentiates Crypto.com's NFT marketplace and its future applications
How Crypto.com is leveraging the power of word of mouth marketing.
Guest List
The amazing cast and crew:
Steven Kalifowitz -

CMO at Crypto.com

As the CMO of Crypto.com, Steven Kalifowitz and his team have led the mainstream adoption of crypto around the world and elevated the conversation about crypto, most recently with a global campaign featuring Matt Damon, and the renaming of the Staples Center to Crypto.com Arena. A two-time Emmy Award winner, Steven began his career in the film & TV industry and has spent over two decades working with the world's most popular platforms, brands, and content around the world.
Subscribe and stream on all the platforms below
About the Show
Brave is at the forefront of a new online privacy frontier and has unique insight into the future of marketing and advertising in a cookieless world. If you're an agency, brand marketer or entrepreneur challenged by the changes in ethical advertising, consumer privacy and buyer expectations, this podcast will provide a backstage view of how influential marketers at top brands and agencies are responding to what's next.