Back to episodes
Season 2 | Episode 5
Cutting Edge Media Strategies that Heighten the User Experience
Darren Herman, Operating Partner at Bain Capital and award winning advertiser, discusses the disruptive marketing campaigns he's created for global brands such as, Vespa, Armani Jeans, Michael's and even Kim Kardashian! Darren also shares why privacy preserving advertising is so effective in heighting the user experience, creating trust and ultimately increasing sales.
Brave pick of the week
This week's Brave Pick of the Week is Chainlink. Check out their website here.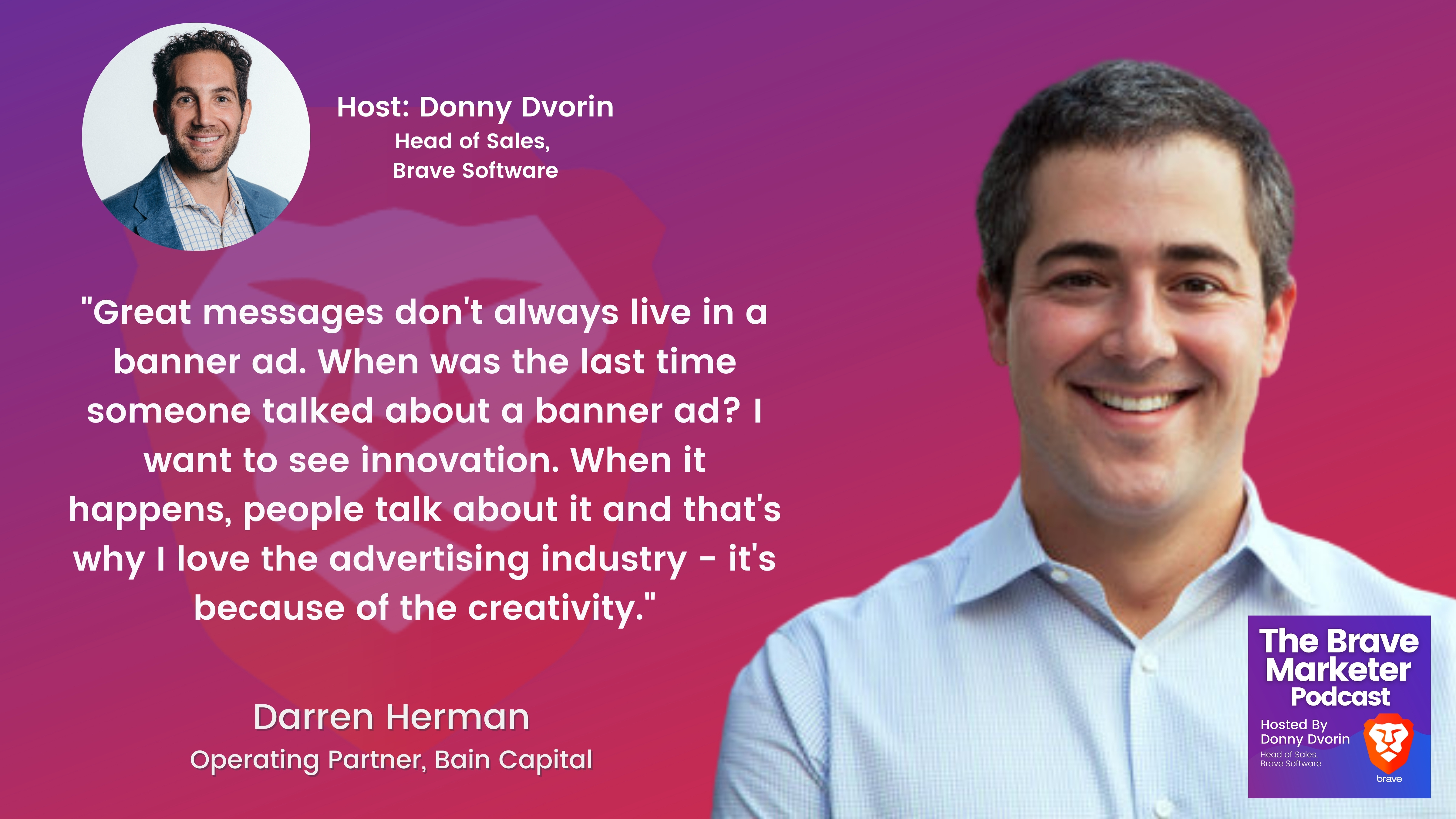 Listen on your favourite podcast player
Show Notes
In this episode of The Brave Marketer Podcast, we discuss:
How Vespa used programmatic advertising data to shape product innovation and target a niche audience.
The results of Kim Kardashian's first ever paid Twitter tweet for Armani Jeans.
How Michael's transformed their business by focusing on their customer first across all channels.
The value and strategy of using actual brands in film, television, video games, etc to create a heightened experience for the users.
How creators can monetize downstream in ways they couldn't before with NFTs
Guest List
The amazing cast and crew:
Darren Herman -

Operating Partner at Bain Capital

Darren Herman is an Operating Partner at Bain Capital where he works on growth strategies. Prior to joining Bain Capital, he spent time leading the first privacy-preserving content platform at Mozilla and spent nearly a decade on Madison Avenue leading digital programs and ad budgets large and small.
Subscribe and stream on all the platforms below
About the Show
Brave is at the forefront of a new online privacy frontier and has unique insight into the future of marketing and advertising in a cookieless world. If you're an agency, brand marketer or entrepreneur challenged by the changes in ethical advertising, consumer privacy and buyer expectations, this podcast will provide a backstage view of how influential marketers at top brands and agencies are responding to what's next.