Brave browser users in Japan will be able to receive and use BAT
bitFlyer, Inc. ("bitFlyer"; HQ: Minato-ku, Tokyo; President: Kimihiro Mine), which operates Japan's No. 1*1 cryptocurrency exchange by Bitcoin trading volume, and Brave Software, Inc. ("Brave Software"; HQ: San Francisco; CEO: Brendan Eich), maker of the Internet browser, Brave, are announcing a partnership between bitFlyer and Brave Software International SEZC, a subsidiary of Brave Software that manages token operations.
In this partnership, we will co-develop a crypto asset wallet in the Brave browser for users in Japan ("the Integrated Wallet"), who will be able to receive Basic Attention Tokens ("BAT") for viewing Brave Ads. Using the Integrated Wallet, which is expected to be released in November 2020, Brave users will be able to buy or sell BAT on bitFlyer, as well as tip BAT to publishers and content creators.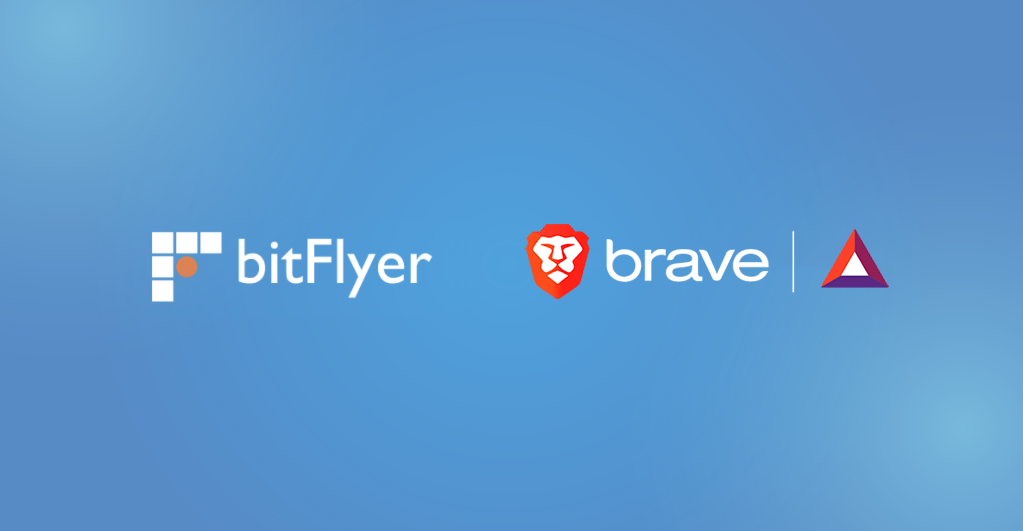 In April, bitFlyer listed BAT, a utility token integrated with the Brave browser. The creation of the Integrated Wallet will further strengthen our cooperation. We will also launch a joint marketing campaign to expand the recognition of cryptocurrencies and blockchain technology among our customers and to improve customer convenience.
Details of the Integrated Wallet
After the launch of this service, anyone with a bitFlyer account will be able to link their bitFlyer account*2 on the Brave browser. The following functions will be available through this integration:
Brave users in Japan who are currently opted in to Brave Rewards are receiving BAT Points*3 for viewing ads, but after the release of the Integrated Wallet, will receive BAT in their bitFlyer account linked to the Integrated Wallet.
BAT rewards can be used to tip publishers and content creators.
Users can trade BAT on bitFlyer and also convert it to JPY.
What we want to achieve through this partnership:
By just browsing the web with Brave, users can earn BAT in return for their attention, all while protecting their privacy.
Users can easily support artists and creators with the BAT they receive.
In the near future, users will be able to purchase content and subscriptions with BAT.
Users can buy or sell BAT on bitFlyer.
Users will experience blockchain technology through the use of Brave browser and BAT.
Comment from Kimihiro Mine, president of bitFlyer
We are pleased to be the first partner in the crypto asset wallet space for the Brave browser in Japan. Leveraging bitFlyer's strengths in high security, we will provide a secure environment for Brave browser users to use their cryptocurrency.
We believe that the Brave browser will provide an opportunity to obtain and use cryptocurrency in everyday browsing and serve as a model case for new possibilities for cryptocurrency, not just as an investment option. Even those who have not been exposed to cryptocurrency will feel more familiar with them by increasing the opportunities to own and use cryptocurrency through the Brave browser.
bitFlyer has introduced "Bitcoin Payments," which has been available at Bic Camera and other retail stores, and has also made it possible to exchange T-POINT for Bitcoin through a partnership with T-POINT, to familiarize people with cryptocurrency in their daily lives.
Through this partnership with Brave Software, we hope to create a real demand for cryptocurrency and to bring cryptocurrency to many people who have never had the opportunity to experience them before. This brings us closer to realizing bitFlyer's mission, Simplify the world with blockchain. We will continue to promote cryptocurrencies in the future.
We are currently preparing to provide this service in cooperation with Brave Software, so please look forward to the launch.
Comment from Hiroshi Shimase, president of Brave Software Asia
We are pleased to be able to announce our partnership with bitFlyer for the co-development of the crypto asset wallet, which we believe is one of the key elements changing the Internet ecosystem of Japan.
Privacy and the attention of consumers have been exploited and monetized by a limited number of companies, enabling them to build immense profits, which have not been distributed back to the content creators and consumers.
At Brave, we protect consumers' privacy, Internet speed, and data cost, all of which are being sacrificed in today's ecosystem. In addition, we strive to properly reward our users for their attention and allow them to easily support their favorite publishers and content creators.
Our partnership with bitFlyer is a big step forward in rebuilding a consumer-first Internet ecosystem so please look forward to future developments.
About bitFlyer, Inc.
bitFlyer was established in 2014 with a mission of "Simplify the world with blockchain." We bring top-class security*4 on a global scale to our trading platform for Bitcoin and other cryptocurrencies, where we have maintained the largest Bitcoin trade volume in Japan. We're also the only cryptocurrency exchange operator licensed to operate in Japan, the US, and the EU.*5
Service site: https://bitflyer.com/en-jp
About Brave Software, Inc.
Brave Software's fast, privacy-oriented browser, combined with its blockchain-based digital advertising platform, is reinventing the Web for users, publishers and advertisers. Users get a private, speedier web experience with much longer battery life, publishers increase their revenue share, and advertisers achieve better conversion. Users can opt into privacy-respecting ads that reward them with a frequent flyer-like token they can redeem or use to tip or contribute to publishers and other content creators. The Brave solution is a win-win for everyone who has a stake in the open Web and who is weary of giving up privacy and revenue to the ad-tech intermediaries. Brave currently has over 15 million monthly active users and over 700,000 Verified Publishers. Brave Software was co-founded by Brendan Eich, creator of JavaScript and co-founder of Mozilla (Firefox), and Brian Bondy, formerly of Khan Academy and Mozilla.
Brave browser website: https://brave.com
Corporate Summaries
bitFlyer, Inc.
Established: January 2014
Address: Midtown Tower, 9-7-1 Akasaka, Minato-ku, Tokyo
President: Kimihiro Mine
Business purpose: Cryptocurrencies exchange and blockchain-related services
Registration number: Registered Cryptocurrency Exchange Operator (Registration No. 00003, issued by the Director of the Kanto Local Finance Bureau)
Brave Software, Inc.
Established: May 2015
Address: 512 Second St., Floor 2, San Francisco, CA 94107
CEO: Brendan Eich
Description of business: Building a privacy-oriented browser called Brave
*1 bitFlyer had the largest monthly trading volume recorded from January through December of 2019 in Japan (includes net settlement and futures trading) according to JPBitcoin.com.
*2 Your account information must be completed and verified in order to connect your bitFlyer account to the Brave browser. The account information procedure requires the registration of personal information, purpose of use, and submission of ID verification documents. Based on the results of our examination of the submitted information, some customers will be unable to create an account.
*3 The details for converting BAT Points (BAP) into BAT will be published at a later date.
*4 bitFlyer was assessed as having the No. 1 security among the 140 cryptocurrency exchanges screened by Sqreen in January 2018.
*5 Based on research by bitFlyer as of July 2020.