Brave's first partnership in the crypto asset wallet space in Japan
bitFlyer, Inc. ("bitFlyer"; HQ: Minato-ku, Tokyo; President: Kimihiro Mine), which operates Japan's No. 1*1 cryptocurrency exchange by Bitcoin trading volume, and Brave Software, Inc. ("Brave Software"; HQ: San Francisco; CEO: Brendan Eich), maker of the Internet browser, Brave, are announcing a partnership between bitFlyer and Brave Software International SEZC, a subsidiary of Brave Software that manages token operations. bitFlyer will be Brave's first partner in the crypto asset wallet space in Japan.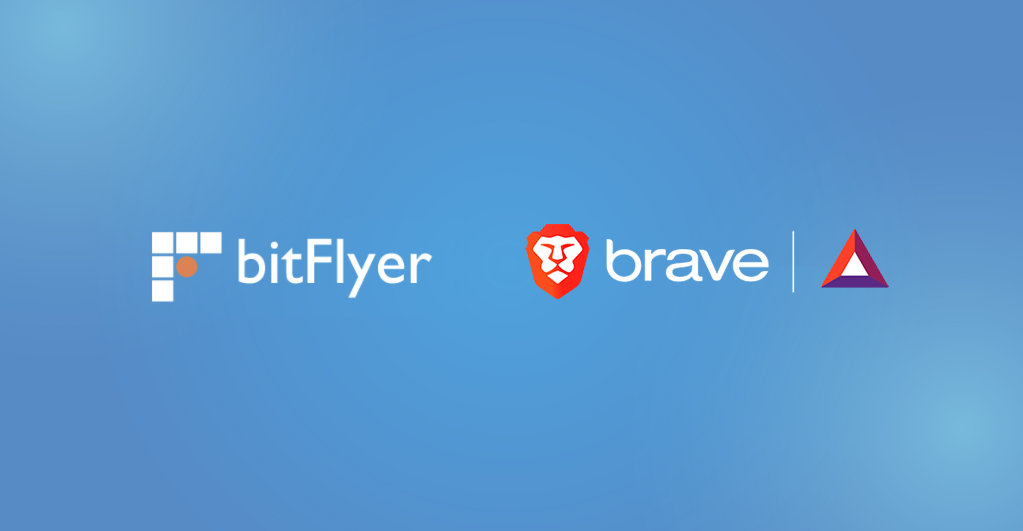 In April, bitFlyer listed the Basic Attention Token, a utility token integrated with the Brave browser. To further strengthen our cooperation, we will start developing a crypto asset wallet for Brave browser users. We will also launch a joint marketing campaign to expand the recognition of cryptocurrencies and blockchain technology among our customers and to improve customer convenience.
About bitFlyer, Inc.
bitFlyer was established in 2014 with a mission of "Simplify the world with blockchain." We bring top-class security*2 on a global scale to our trading platform for Bitcoin and other cryptocurrencies, where we have maintained the largest Bitcoin trade volume in Japan. We're also the only cryptocurrency exchange operator licensed to operate in Japan, the US, and the EU.*3
Service site: https://bitflyer.com/en-jp
About Brave Software, Inc.
Brave Software's fast, privacy-oriented browser, combined with its blockchain-based digital advertising platform, is reinventing the Web for users, publishers and advertisers. Users get a private, speedier web experience with much longer battery life, publishers increase their revenue share, and advertisers achieve better conversion. Users can opt into privacy-respecting ads that reward them with a frequent flyer-like token they can redeem or use to tip or contribute to publishers and other content creators. The Brave solution is a win-win for everyone who has a stake in the open Web and who is weary of giving up privacy and revenue to the ad-tech intermediaries. Brave currently has over 15 million monthly active users and over 700,000 Verified Publishers. Brave Software was co-founded by Brendan Eich, creator of JavaScript and co-founder of Mozilla (Firefox), and Brian Bondy, formerly of Khan Academy and Mozilla.
Brave browser website: https://brave.com
Corporate Summaries
bitFlyer, Inc.
Established: January 2014
Address: Midtown Tower, 9-7-1 Akasaka, Minato-ku, Tokyo
President: Kimihiro Mine
Business purpose: Cryptocurrencies exchange and blockchain-related services
Registration number: Registered Cryptocurrency Exchange Operator (Registration No. 00003, issued by the Director of the Kanto Local Finance Bureau)
Brave Software, Inc.
Established: May 2015
Address: 512 Second St., Floor 2, San Francisco, CA 94107
CEO: Brendan Eich
Description of business: Building a privacy-oriented browser called Brave
*1 bitFlyer had the largest monthly trading volume recorded from January through December of 2019 in Japan (includes net settlement and futures trading) according to JPBitcoin.com.
*2 bitFlyer was assessed as having the No. 1 security among the 140 cryptocurrency exchanges screened by Sqreen in January 2018.
*3 Based on research by bitFlyer as of June 2020.